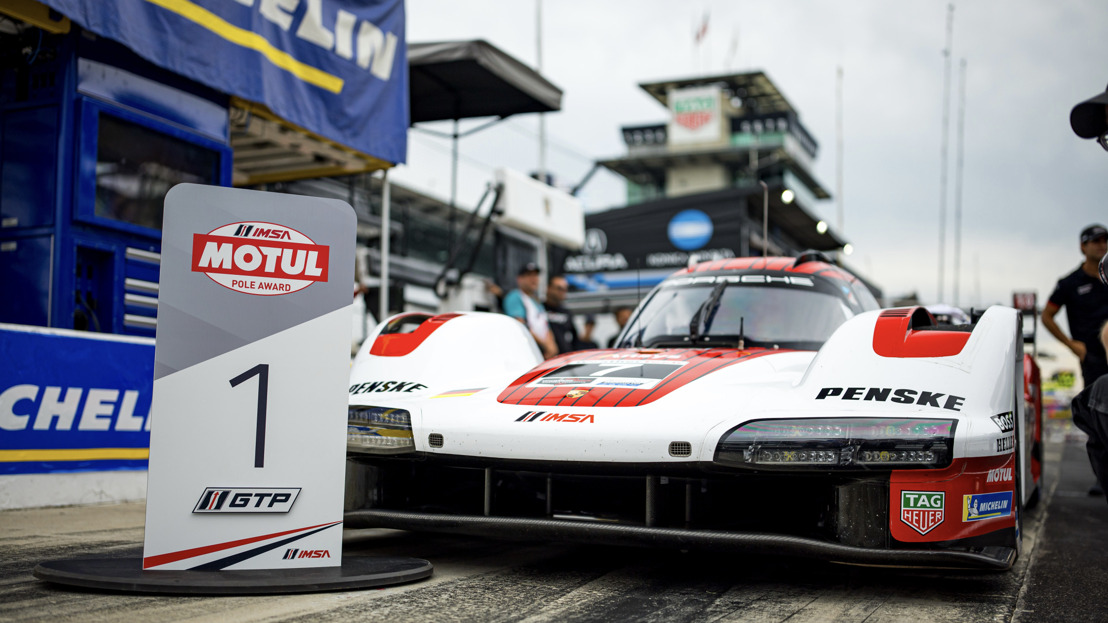 Porsche Penske Motorsport locks out the first grid row in Indianapolis
Sunday, September 17, 2023
Matt Campbell clinches second pole position for the Porsche 963
Mathieu Jaminet plants the factory squad's sister car on P2
Pfaff Motorsports' Porsche 911 GT3 R on first grid spot in the GTE-Pro class
Penultimate round of the IMSA series gets underway today at 1:10 pm
Porsche Penske Motorsport's two factory-run Porsche 963 will tackle the penultimate round of the IMSA WeatherTech SportsCar Championship season from the front grid row. Australian works driver Matt Campbell qualified on pole position at the Indianapolis Motor Speedway and his French colleague Mathieu Jaminet set the second quickest time. Klaus Bachler was successful in the GTD Pro class, with the Austrian clinching pole position at the wheel of the Porsche 911 GT3 R fielded by Pfaff Motorsports.
Stuttgart. Porsche Penske Motorsport headed into the qualifying session for round ten of the IMSA WeatherTech SportsCar Championship with high expectations. Driving the No. 7 Porsche 963, Matt Campbell set the fastest times in both free practices on Friday afternoon and Saturday morning. In the 20-minute qualifying session, the Australian lived up to his role as a hot favourite, with Campbell turning a blistering pole-setting lap in 1:13.672 minutes. In the No. 6 car, Frenchman Mathieu Jaminet claimed the second grid spot in the identical 515+ kW (700 hp) hybrid prototype from Weissach.

Under cloudy skies and in temperatures of 22 degrees Celsius, the works team's two Porsche 963 waited in the pit lane for two minutes at the start of the session. Campbell and Jaminet then patiently warmed up the tyres to attack in the second half of qualifying. The Australian promptly topped the leaderboard and improved his lap time again on his second attempt. With four minutes remaining, Jaminet was in third, then advanced to second position – scoring a perfect result for Porsche Penske Motorsport.

"For the second time this season, we locked out the top two grid positions. That makes me really proud," says Urs Kuratle, Director Factory Motorsport LMDh. "It's obvious that the interaction of the team is getting better and better. This involves not only the crew in the IMSA series but also the team in the FIA WEC. The drivers also put in perfect drives. On Friday we still had some issues to work on, which we did successfully – and the result reflects this. We're excited for the race. First of all, many thanks to everyone in Weissach, in Mooresville and to all the partners who played their part in today's success."

"The team did a perfect job. We were very strong in practice and underlined this in qualifying," says Jonathan Diuguid, Managing Director Porsche Penske Motorsport. "We have perfectly implemented the insights that our team gained at the FIA WEC race in Fuji. Porsche Penske Motorsport's global programme with its involvement in the World Championship and IMSA series is working well. Tomorrow we want to score maximum points and reduce the gap in the driver, team and manufacturer standings so that we can boost our championship chances. We have the speed, now need to call it up on Sunday."

The two Porsche 963 campaigned by the Proton Competition and JDC-Miller MotorSports teams will tackle the penultimate race of the season from the back of the GTP grid. Works driver GIanmaria Bruni from Italy clocked strong lap times in the first half of the session at the wheel of the No. 59 car run by the German customer team Proton Competition but was ultimately unable to make any decisive improvements and finished in ninth place. The 19-year-old Dutchman Tijmen van der Helm qualified tenth in the No. 5 JDC-Miller Motorsports car.

GTD classes: Porsche 911 GT3 R from Pfaff Motorsports on pole position
In the GTD Pro category, the Canadian team Pfaff Motorsports secured its second pole position this season. Facing heavy traffic in the 22-strong field of GT cars, Klaus Bachler was the fastest driver in his class with a time of 1:23.140 minutes. The Austrian shares the No. 9 Porsche 911 GT3 R with the experienced Frenchman Patrick Pilet. In the GTD class, the identical ca. 415 kW (565 hp) nine-elevens campaigned by the customer teams Kelly-Moss with Riley, Wright Motorsports and AO Racing will head into the race from positions nine, ten, 13 and 16 respectively.

Round ten of the IMSA WeatherTech SportsCar Championship in Indianapolis starts on Sunday, 17 September at 1:10 pm local time (7:10 pm CEST). Outside the USA and Canada, the 2:40-hour race can be viewed via a free live stream on imsa.tv.

Drivers' qualifying quotes
Matt Campbell (Porsche 963 #7): "This pole position means a lot to the team because Penske owns the track. Everything ran perfectly for us in the free practice sessions and qualifying. Still, I expect race day will be hard work. It's a very short track and there are a lot of cars in five different classes. It'll definitely be hectic, very tight and spectacular. We need to be careful and not risk collisions. If we can stay out of trouble, then we should be good for a decent result."

Mathieu Jaminet (Porsche 963 #6): "Pole for the sister car, second place for us – a brilliant result. I'm happy because, at the beginning of the weekend, we were far away from the leaders with our No. 6 car. The team did an excellent job and made us significantly faster compared to Friday. Our car runs much better now. Based on this, second place was a positive surprise. We head into the race from an ideal starting position. Hopefully, we can turn that into a top result."

Tijmen van der Helm (Porsche 963 #5): "We'd have preferred to secure a grid position further up the field, but unfortunately that didn't work out. Still, we made further progress with the car. We're constantly learning. Let's hope we manage to continue this trend in the race and close the gap to the competition. I'm pretty pleased with my drives, although there is still some room for improvement. I'm looking forward to the race and am excited to see what will happen on Sunday."

Gianmaria Bruni (Porsche 963 #59): "That was an interesting qualifying. I actually expected we'd be a little quicker, but we had some minor problems with our car during qualifying. First, I had to start the car again, then I was too fast in pitlane and was called in for a drive-through penalty. During my laps I also had to change a lot of settings – so I had my hands full. Let's see what we can do in the race. In any case, it's a great result for Porsche."

Klaus Bachler (Porsche 911 GT3 R #9): "What a great qualifying! Starting from pole position on a circuit like Indianapolis is of course great for the start of the spectacle on Sunday. I expect a very tough race. We'll encounter more than 20 GT cars on the track, plus vehicles from the GTP, LMP2 and LMP3 classes – a lot can happen. Our goal is clear: We want to turn our pole position into a victory. Our team is strong, the car handles beautifully. All the ingredients are there to be successful."

Qualifying result
GTP class:
1. Campbell/Nasr (AUS/BR), Porsche 963 #7, 1:13.672 minutes
2. Tandy/Jaminet (UK/F), Porsche 963 #6, 1:13.824 minutes
3. Blomqvist/Braun (UK/USA), Acura #60, 1:13.864 minutes
9. Bruni/Tincknell (I/UK), Porsche 963 #59, 1:14.306 minutes
10. Rockenfeller/van der Helm (D/NL), Porsche 963 #5, 1:14.632 minutes

GTD Pro class:
1. Bachler/Pilet (A/F), Porsche 911 GT3 R #9, 1:23.140 minutes
2. Gounon/Juncadella (F/E), Mercedes-AMG #79, 1:23.290 minutes
3. Hawksworth/Barnicoat (UK/UK), Lexus #14, 1:23.345 minutes

GTD class:
1. Sellers/Snow (USA/USA), BMW #1, 1:23.075 minutes
2. Skeen/Grenier (USA/CDN), Mercedes-AMG #32, 1:23.424 minutes
3. Gallagher/Foley (USA/USA), BMW #96, 1:23.657 minutes
9. Metni/van Berlo (USA/NL), Porsche 911 GT3 R #91, 1:24.210 minutes
10. Hyett/Priaulx (USA/UK), Porsche 911 GT3 R #80, 1:24.246 minutes
13. Brynjolfsson/Hindman (USA/USA), Porsche 911 GT3 R #77, 1:24.663 minutes
16. Brule/Udell (USA/USA), Porsche 911 GT3 R #92, 1:25.957 minutes

Full results: imsa.alkamelsystems.com.
Liana Picard PR Manager Porsche Belgium, D'Ieteren Automotive N.V/S.A.