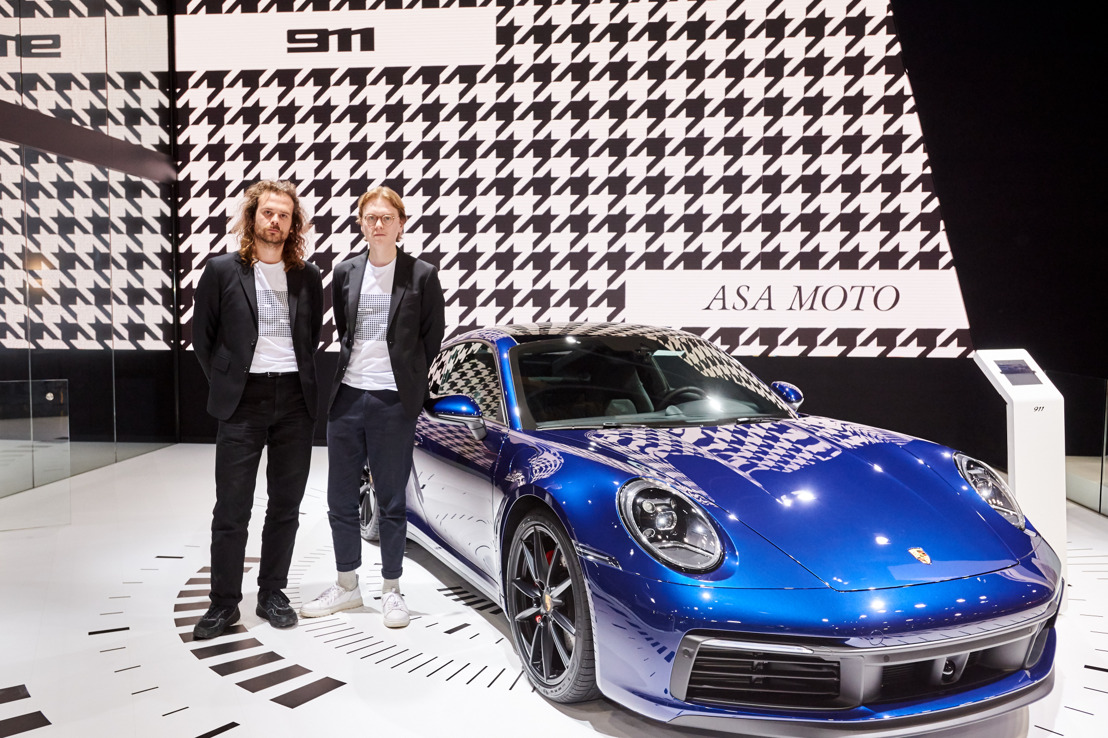 The sound of the 911 liberated
Monday, January 21, 2019
"NINE-ONE-ONE": a unique auditory experience.
Porsche has made their collaboration with the Asia Moto duo official.
A European Première for the new Porsche 911 at the Brussels 2019 Motor Show.
"NINE-ONE-ONE", a piece composed exclusively for Porsche by Asa Moto, has just been previewed, at the same time as the presentation of the new Porsche 911 (992), on the occasion of the inauguration of Dream Cars 2019. The young composers, a duo of Belgian DJ-producers, are among the most promising artists at the moment.
In 2012, two friends, Oliver Geerts and Gilles Noë, formed the Belgian duo Asa Moto which is without contest the rising sensation in electronic music. Rapidly spotted by the BBC, Resident Advisor and even Redbull, the duo then embarked on a series of tours in clubs and at festivals; Geerts and Noë have seduced Europe with their live performances which are acknowledged and highly appreciated everywhere. In addition, they are also presenters of a fortnightly radio show; the young Belgian artists, Asa Moto, define themselves as a duo that is both avant-garde and timeless. It is therefore not astonishing to find them at the Porsche Stand this Thursday, 17 January, at the inauguration of Dream Cars 2019.
A Double première
On this occasion, Asa Moto have previewed "NINE-ONE-ONE", a piece composed for Porsche, a unique sensorial experience for the eighth generation of the 911, "NINE-ONE-ONE" can also be enjoyed in all the Belgian Porsche Centres and it will also be a communications support on social networks. Moreover, as part of, this resounding collaboration, Oliver Geerts and Gilles Noë will take advantage in 2019 of the opportunity to obtain their driving license thanks to the learning sessions they will follow at the Porsche Experience in Nivelles.
The Brussels Motor Show will open its doors on Saturday, 19 January 2019 to Sunday, 27 January 2019. And just like the piece written by Asa Moto, the new Porsche 911 (992) will also be presented to the general public as a European première. As a reminder, throughout the duration of the Motor Show, the Porsche Centres in Belgium will be open to all enthusiasts of the Stuttgart brand.
When? The piece "NINE-ONE-ONE" can be heard now!
Where? On Asa Moto's SoundCloud channel. https://soundcloud.com/asa-moto101/asa-moto-nine-one-one-master
Info: www.soundcloud.com/asa-moto101 | www.facebook.com/asamoto101/
Bernard Van Bellingen PR Manager, Porsche Import