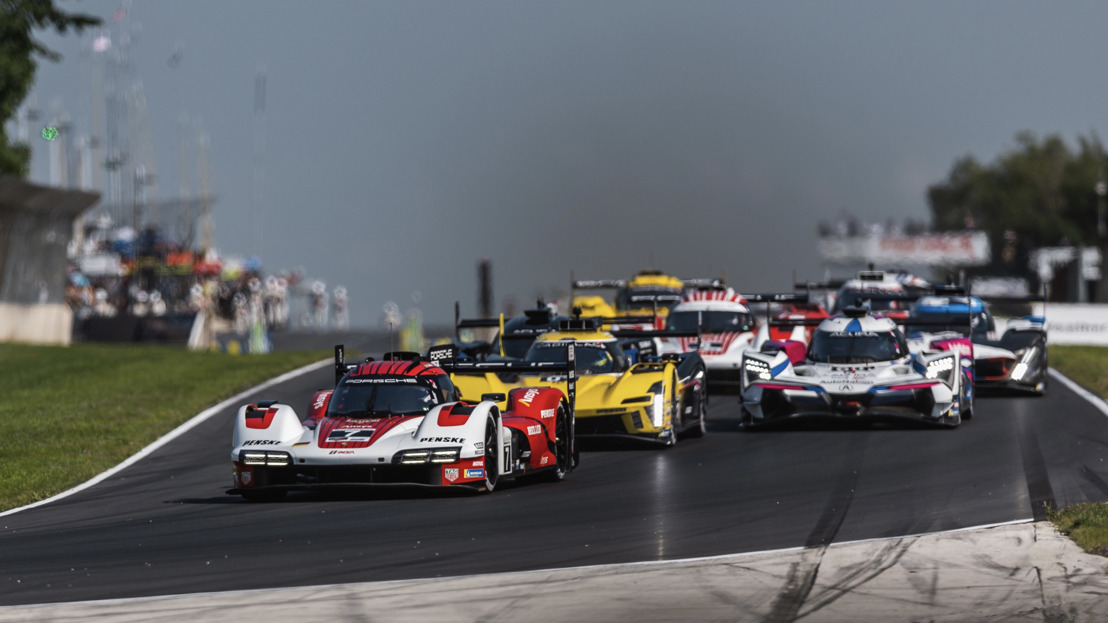 Porsche Penske Motorsport celebrates IMSA debut at historic venue
Wednesday, September 13, 2023 — 13/09/2023 - Porsche Penske Motorsport is eager to improve its championship chances at the tenth and penultimate round of this year's IMSA WeatherTech SportsCar Championship. Next weekend, the North American sports car racing series will celebrate its premiere at the famous Indianapolis Motor Speedway.
Preview
The works team runs two Porsche 963 in a bid for overall victory in the top GTP class. The customer teams JDC-Miller MotorSports and Proton Competition field a pair of identical hybrid prototypes, with four partner teams campaigning a total of five Porsche 911 GT3 R in the two GT classes.
Porsche Penske Motorsport tested extensively in preparation for the 2:40-hour race at the Indianapolis Motor Speedway. Works drivers Nick Tandy from the UK, Mathieu Jaminet from France, Matt Campbell from Australia and Brazilian Felipe Nasr completed a total of 485 laps on the 3.925-kilometre circuit in the two Porsche 963 at the end of July – another test outing followed in mid-August. After these tests, the factory squad heads to the penultimate race of the IMSA WeatherTech SportsCar Championship next Sunday (17 September) well prepared. Porsche Penske Motorsport's aim for round ten is to close the gap to the leaders in the championship. The fight for the title will go down to the wire at the finale at Road Atlanta ("Petit Le Mans") in mid-October.

"The IMSA WeatherTech SportsCar Championship season is now entering its critical phase," explains Thomas Laudenbach, Vice President of Porsche Motorsport. "We have a chance to win the championship in both the team and driver standings. We want to earn maximum points in the upcoming race and position ourselves well for the big finale at Road Atlanta. Our team has prepared meticulously for the upcoming challenges in Indianapolis during tests and in the simulator. I'm confident that our works cars and the two customer-run Porsche 963 will fight among the frontrunners. I also hope that our partner teams will be competitive in the two GT classes."
Thomas Laudenbach, Vice President of Porsche Motorsport
"The track layout in Indianapolis poses a major challenge with its fast oval sections and the slow, very twisty infield," says Urs Kuratle. The Head of Factory Motorsport LMDh adds: "Our test drives at the legendary 'Brickyard' were successful. We have collected important data and gained many insights that will help us find the optimal setup for the cars. Our goal is clear: We want to be at the front and collect as many points as possible so that we have a good chance of winning the manufacturer, team and driver titles at the big finale at Road Atlanta."

"Indianapolis Motor Speedway is known as one of most the iconic racetracks around the world. The history of this track is second-to-none, and Team Penske's IndyCar record of 19 Indianapolis 500 wins adds to that history," comments Jonathan Diuguid, Managing Director Porsche Penske Motorsport. "The road course circuit at Indy provides a perfect opportunity to showcase the speed and technology of our Porsche Penske Motorsport 963s, and compete for a chance to add our name to the record books. We've had a couple of tests here, and hope to be up to speed on this unique track layout which features long straights and slow-speed technical corners. With only two races remaining in the IMSA season it is important to come out of Indy with a good finish for our team and to keep moving one step closer to the top of the championships that are still in play for 2023."
The Indianapolis Motor Speedway in the US state of Indiana is one of the world's oldest permanent racetracks. The facility – nicknamed the "Brickyard" due to the paved start-finish line – was built in 1909 as a four-kilometre (2.5-mile) oval track. The famous Indy 500 is contested every year in the arena, which can seat almost 260,000 spectators and is the highlight of every IndyCar season. At the end of May this year, the American Penske driver Josef Newgarden added his name to the list of winners of the classic.
For its Indianapolis debut, the IMSA WeatherTech SportsCar Championship races on the 3.925-kilometre Grand Prix Road Course under the title "Battle on the Bricks". This combination of long straights, fast oval passages and tight infield features 14 turns. From 2000 to 2007, Formula 1 made guest appearances on a similar layout. The Indianapolis Motor Speedway has been owned by the Penske Entertainment Group since 2020 and is therefore part of Roger Penske's corporate empire.
The works cars
This year's permanent crew will share the cockpits of the two Porsche 963 fielded by Porsche Penske Motorsport. Nick Tandy and Mathieu Jaminet share driving duties in the No. 6 entry. In April, the duo clinched the first victory for Porsche's new LMDh prototype in Long Beach. It currently ranks fourth in the championship. Their brand colleagues Matt Campbell and Felipe Nasr lie in seventh place. In their No. 7 car, they recently won the IMSA race at Road America. Porsche ranks third in the manufacturers' championship.
The customer teams
In the top GTP class, the two customer teams JDC-Miller MotorSports and Proton Competition each tackle the 160-minute race with one Porsche 963. Germany's Mike Rockenfeller and Tijmen van der Helm from the Netherlands helm the No. 5 car fielded by the US team. Proton Competition's No. 59 vehicle will be driven by Porsche works driver Gianmaria Bruni from Italy and Englishman Harry Tincknell.
Pfaff Motorsports' Porsche 911 GT3 R contests the GTD Pro category. The Canadian customer team's No. 9 entry is driven by the Austrian Klaus Bachler and Patrick Pilet from France. The duo clinched class victory in Sebring in March with works driver Laurens Vanthoor from Belgium. In the GTD class, three additional customers will field a total of four GT3 vehicles from Weissach.
Drivers' comments before the race
Mathieu Jaminet (Porsche 963 #6): "Since Watkins Glen, we've been struggling with our number 6 crew. We've lost ground in the championship and we urgently need to reverse this downward trend. Now, we're racing in Indianapolis for the first time. We've done two tests there and the car felt really good. Hopefully, our Porsche 963 will match the pace of the frontrunners. It would be important for Nick and me to notch up another success – for us and the whole team. A win would significantly improve our chances in the title fight and really lift the spirits before the season finale."

Felipe Nasr (Porsche 963 #7): "It's simply great that IMSA has added a race in Indianapolis to the calendar. For the first time, the fast GTP prototypes can show what they are capable of there – it'll be spectacular. The track belongs to Roger Penske's group of companies, so it's really 'Captain's Country'. It would be perfect if we could give him, the team and everyone at Porsche another victory. The last time we won was at Road America. We'd like to repeat such a triumph and preferably finish on the podium with both Porsche 963."

Mike Rockenfeller (Porsche 963 #5): "The track is steeped in rich tradition and history; I think the setting is just great. A few weeks ago, I competed there in NASCAR. Now I get to refamiliarise myself with the Porsche 963. That won't be a problem at all. We took part in the official IMSA test with our car. That should help us to start the weekend with a good setup. We were fast at the previous round at Road America. I hope we can repeat this performance on the demanding and very technical track in Indianapolis."

Gianmaria Bruni (Porsche 963 #59): "I know the Indianapolis circuit. I was there with Formula 1 in 2004, but that was a very long time ago. We drove a different track layout then so everything is new for me this year. I'm very eager to drive the Porsche 963 on this legendary track. It's sure to be a lot of fun. At the same time, Harry and I and our team are facing a big challenge."

Patrick Pilet (Porsche 911 GT3 R #9): "I've been to so many races in America, but never to Indianapolis. It's a legendary venue with a great history. I'm really looking forward to racing there at last. First of all, it'll be about exploring the track. On paper, it looks like the course isn't too difficult to learn, but it certainly has its quirks. Let's see how our Porsche 911 GT3 R fares on this layout with its long straights. In any case, we want to get back on the top step of the podium as soon as possible."
Overview of cars and drivers
GTP class (Porsche 963):
JDC-Miller MotorSports #5: Mike Rockenfeller (D) / Tijmen van der Helm (NL)
Porsche Penske Motorsport #6: Mathieu Jaminet (F) / Nick Tandy (UK)
Porsche Penske Motorsport #7: Matt Campbell (AUS) / Felipe Nasr (BR)
Proton Competition #59: Gianmaria Bruni (I) / Harry Tincknell (UK)

GTD-Pro class (Porsche 911 GT3 R):
Pfaff Motorsports #9: Klaus Bachler (A) / Patrick Pilet (F)

GTD class (Porsche 911 GT3 R):
Wright Motorsports #77: Alan Brynjolfsson (USA) / Trent Hindman (USA)
AO Racing #80: PJ Hyett (USA) / Sebastian Priaulx (UK)
Kellymoss with Riley #91: Alan Metni (USA) / Kay van Berlo (NL)
Kellymoss with Riley #92: David Brule (USA) / Alec Udell (USA)
The schedule (local time, CEST -6 hours)
Friday, 15 September
4:40 pm – 6:10 pm: Free practice 1

Saturday, 16 September
8:55 am – 10:40 am: Free practice 2
1:00 pm – 1:15 pm: Qualifying GTD-Pro/GTD
1:50 pm – 2:10 pm: Qualifying GTP

Sunday, 17 September
8:00 am – 8:20 am: Warmup
1:10 pm – 3:50 pm: Race (2:40 hours)
Liana Picard PR Manager Porsche Belgium, D'Ieteren Automotive N.V/S.A.