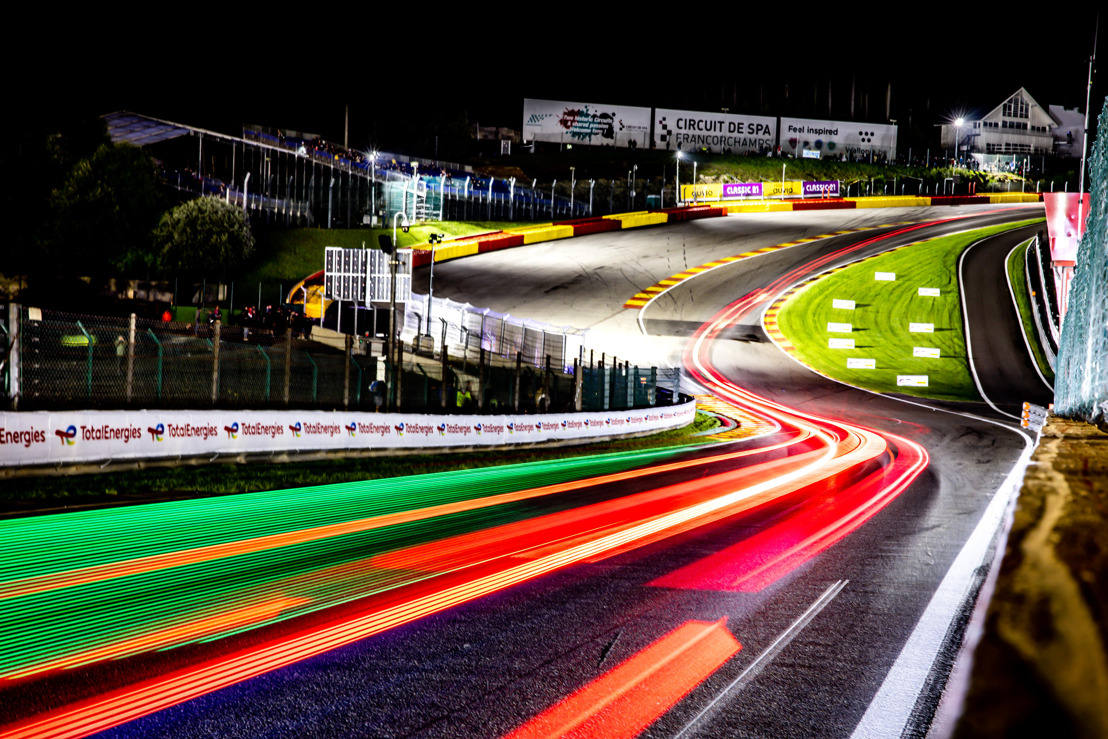 Record number of Porsche customer teams contests the Spa 24-hour race
Preview, 24 Hours of Spa-Francorchamps (Belgium)
Eleven customer squads and 53 drivers compete with 14 Porsche 911 GT3 R

New racer based on the 911-generation 992 starts in four classes

Three all-pro crews set sights on scoring the ninth win for a Porsche

Live streaming on the website http://www.intercontinentalgtchallenge.com
The 24-hour race at Spa-Francorchamps is regarded as the annual highlight of the GT3 season. At the 75th running of the tradition-steeped event in the Ardennes region of Belgium, a record number of 14 Porsche 911 GT3 R will line up on the grid next weekend. In its debut season, the racing car based on the 992-generation is one of the hot favourites at the endurance classic. The customer teams in the top pro category have set their sights on bringing home the ninth victory for a Porsche in this race.
Stuttgart. Just under a year ago, Porsche showcased the new 911 GT3 R at the 24 Hours of Spa-Francorchamps for the first time. The race debut took place at the 24 Hours of Daytona in January. This coming weekend, 14 of these racing cars developed in Weissach will line up on the grid at the Belgian endurance classic. They represent the largest contingent ever fielded by the sports car manufacturer at what is arguably the world's most important GT3 event. The new 911 GT3 R, based on the 992-generation, can produce up to 416 kW (565 PS). Eleven customer teams compete with a total of 53 drivers on the so-called Ardennes rollercoaster in four different classifications. To date, a Porsche has won this historic endurance race eight times. The last two wins came in succession: in 2019, Kévin Estre (France), Michael Christensen (Denmark) and Richard Lietz (Austria) secured overall victory with GPX Racing's 911 GT3 R. A year later, the works driver trio Nick Tandy (United Kingdom), Earl Bamber (New Zealand) and Laurens Vanthoor (Belgium) repeated the feat, this time for Rowe Racing.
"Fourteen Porsche 911 GT3 R – we've never been represented as strongly at the 24 Hours of Spa-Francorchamps! We're delighted with the tremendous support from our customer teams, which also reflects their trust in our new car," emphasises Sebastian Golz, Project Manager Porsche 911 GT3 R. "The race itself is likely to be a tough one again. A 72-strong field of almost equally matched GT3 cars on just seven kilometres of track, piloted by many potential winners: this gives the event, which has long since developed into a 24-hour sprint, a clear and unique selling point. It's everyone against everyone there. After the test drives, we feel well-prepared. I hope that a ninth victory for a Porsche at this endurance highlight is within reach for us."
The race
The Circuit de Spa-Francorchamps has thrown one of the greatest challenges at racing drivers from all over the world since 1921. In 1924, just three years after its inauguration, the first 24-hour race was contested in the east of Belgium, not far from the German border – making this classic just one year "younger" than the legendary 24 Hours of Le Mans, which celebrated its centenary in 2023. The racetrack back then measured about 15 kilometres and ran between the towns of Francorchamps, Malmedy and Stavelot. In 1979, the distance was shortened. Measuring 7.004 kilometres and featuring 21 turns, the storied Grand Prix circuit is still the longest track on the Formula 1 calendar. The "Ardennes rollercoaster" still deserves its nickname, by virtue of the spectacular steep section "Raidillon/Eau Rouge" and the downhill passage with the notorious "Blanchimont". At the end of the start/finish straight, however, drivers encounter the tight "La Source" hairpin – one of the slowest corners of the GT3 season. Before the 2022 season got underway, the storied racetrack underwent an extensive upgrade. As part of this modernisation, new gravel traps and grandstands were added, among other features. The basic layout, however, remained the same. Due to its location in the Ardennes, teams and drivers must expect unpredictable weather conditions at any time.
The 24 Hours of Spa-Francorchamps will once again run as part of the GT World Challenge Europe Endurance Cup and the Intercontinental GT Challenge (IGTC). With a 72-strong field of GT3 racing cars, the grid line-up for the 75th edition of the event sets a new benchmark. At the highlight of the GT3 season, drivers and cars receive points after six, twelve and 24 hours respectively.
The customer teams and drivers
The 14 Porsche 911 GT3 R cars will compete in four different classification groups at Spa-Francorchamps. The hot favourites for overall victory start in the 19-strong Pro Division, reserved for fully professional crews. Three 911 racers with three drivers per car tackle this class. Manthey EMA is represented by a powerful trio consisting of former Porsche Junior Julien Andlauer from France as well as works drivers Kévin Estre and local hero Laurens Vanthoor. Rutronik Racing puts its trust in three former Porsche Juniors: Laurin Heinrich from Germany and the Norwegian Dennis Olsen as well as works driver Thomas Preining from Austria. All three are causing a stir in this season's DTM with the new 911 GT3 R. The same applies to Dinamic GT Huber Racing: DTM drivers Ayhancan Güven (Turkey) and German Christian Engelhart, as well as his fellow countryman Sven Müller share the cockpit of the Italian-German squad's Pro car. Güven and Müller also came up through the Porsche Junior ranks.
In the Pro-Am classification, GMG Racing by Car Collection Motorsport, Modena Motorsport and Grove Racing will each campaign a Porsche 911 GT3 R. In this class, at least two drivers must hold "Bronze" status, share the wheel for at least eight hours and sit in the cockpit for at least 60 minutes per race quarter.
In the Silver Cup, Dinamic GT Huber Racing flies the flag for Porsche with a 911 GT3 R. In this category, the four drivers per race car must have a FIA "Silver" grading. Put simply, this class is reserved for semi-professionals.
The bronze class has been reorganised. With 25 entries, it makes up more than a third of the grid. In this category, four drivers may share a car however, no more than one may have "platinum" status and two "silver" status. The fourth driver must be "Bronze" graded. The Porsche customer teams Herberth Motorsport, Pure Rxcing, Huber Motorsport, Grove Racing, CLRT, Dinamic GT Huber Racing and Team Parker racing have entered a total of seven 911 GT3 R cars.
Live streaming of the event
The 24-hour race in Spa-Francorchamps gets underway on 1 July at 4:30 pm. A free live stream of the classic can be seen on the website http://www.intercontinentalgtchallenge.com.
Drivers' comments on the race
Laurens Vanthoor (Porsche 911 GT3 R #92): "The 24 Hours of Spa is something special for me. The track is only an hour's drive from my home and it's a very competitive race with a lot of drivers in the same class. I'm looking forward to it! Joining forces with Kévin Estre and Julien Andlauer, we have a strong driver line-up at Manthey EMA and a similarly great chance to fight for victory. I've won this race twice. I'll do my very best to finish on top of the podium a third time."
Christian Engelhart (Porsche 911 GT3 R #54): "With a record field of 72 cars, the Spa 24 Hours is a massive event and, as the biggest GT3 race in the world, a real challenge. I can't wait for it to get underway! Of course, we'd love to win – just like the 71 others. Unfortunately, we couldn't prepare as well this year because our Porsche was involved in an accident at the Nürburgring 24-hour race. That's why we weren't able to take part in the track test. We've got a tight schedule ahead of us at Spa to get the car set up as quickly as possible in the practice sessions. Nevertheless, we're heading to the event feeling very optimistic and we'll do our utmost to finish well ahead of the competition in this long and difficult race."
Thomas Preining (Porsche 911 GT3 R #96): "Our test at Spa went very well. In terms of the car, we're in the right performance window. I have a lot of faith in the team. We've learned a lot together and I think we can implement it very well now. I'm confident that we can squeeze the maximum out of the Porsche 911 GT3 R's potential. My teammates are also fired up. It's going to be a cool week with, hopefully, a good ending."
Klaus Bachler (Porsche 911 GT3 R #911): "Our expectation is definitely to compete for victory in our class. We have a very strong team and a very good driver line-up. But a 24-hour race is tough and with 72 GT3 cars on the track, it doesn't come without its challenges. We have to drive smart and stay out of trouble. If we can get through without any problems, we should be in a good position at the finish line."
Porsche's customer teams and drivers – Pro class:
Dinamic GT Huber Racing (#54)
Ayhancan Güven (TR) / Sven Müller (D) / Christian Engelhart (D)
Manthey EMA (#92)
Laurens Vanthoor (B) / Kévin Estre (F) / Julien Andlauer (F)
Rutronik Racing (#96)
Thomas Preining (A) / Laurin Heinrich (D) / Dennis Olsen (N)
Pro-Am Cup:
Car Collection Motorsport (#24)
Nicolas Leutwiler (CH) / Ivan Jacoma (CH) / Alex Fontana (CH) / Nico Menzel (D)
GMG Racing by Car Collection Motorsport (#132)
Kyle Washington (USA) / James Sofronas (USA) / Jeroen Bleekemolen (NL) / Patrick Long (USA)
Modena Motorsport (#216)
Francis Tjia (HK) / John Shen (HK) / Benny Simonsen (DK) / Mathias Beche (CH)
Silver Cup:
Dinamic GT Huber Racing (#56)
Tanart Sathienthirakul (T) / Jop Rappange (NL) / Daniele di Amato (I) / Adrien de Leener (UK)
Bronze Cup
Huber Motorsport (#20)
Antares Au (HK) / Dennis Fetzer (D) / Matteo Cairoli (I) / Jannes Fittje (D)
Grove Racing (#23)
Brenton Grove (AUS) / Stephen Grove (AUS) / Earl Bamber (NZ) / Anton de Pasquale (AUS)
CLRT (#44)
Steven Palette (F) / Clément Mateu (F) / Frédéric Makowiecki (F) / Hugo Chevalier (F)
Dinamic GT Huber Racing (#55)
Philipp Sager (A) / Marius Nakken (N) / Benjamin Barker (UK) / Christopher Zöchling (D)
Team Parker Racing (#62)
Derek Pierce (UK) / Kiern Jewiss (UK) / Andrew Meyrick (UK) / Xavier Maassen (NL)
Herberth Motorsport (#91)
Ralf Bohn (D) / Alfred Renauer (D) / Robert Renauer (D) / Kay van Berlo (NL)
Pure Rxcing (#911)
Klaus Bachler (A) / Alex Malykhin (UK) / Joel Sturm (D) / Marco Seefried (D)
24 Hours of Spa-Francorchamps – all outright Porsche victories
2020 Tandy / Bamber / Vanthoor (Porsche 911 GT3 R)
2019 ​ Lietz / Christensen / Estre (Porsche 911 GT3 R)
2010 Dumas / J. Bergmeister / Ragginger / Henzler (Porsche 911 GT3 RSR)
2003 Ortelli / Lieb / Dumas (Porsche 911 GT3 RSR)
1993 C. Fittipaldi / Jarier / Alzen (Porsche 911 RSR)
1969 Chasseuil / Ballot-Léna (Porsche 911)
1968 ​ Kremer / H. Kelleners / Kauhsen (Porsche 911)
1967 ​ Gaban / Van Assche (Porsche 911)
The schedule (all times CEST)
Thursday, 29 July
11:20 – 12:50 hrs: Free practice 1
18:10 – 19:10 hrs: Pre-qualifying
21:20 – 21:35 hrs: Qualifying 1
21:42 – 21:57 hrs: Qualifying 2
22:04 – 22:19 hrs: Qualifying 3
22:26 – 22:41 hrs: Qualifying 4
23:00 – 00:30 hrs: Night practice
Friday, 30 June
15:35 – 16:05 hrs: Super Pole
20:35 – 21:05 hrs: Warm Up
Saturday, 1 July
16:30 hrs: Start 24 Hours of Spa-Francorchamps
Sunday, 2 July
16:30 hrs: Chequered flag 24 Hours of Spa-Francorchamps
Further information, photo and video material are available on Porsche Newsroom: newsroom.porsche.com
The Twitter channel @PorscheRaces and Instagram @porsche.motorsport as well as
@porschepenskemotorsport provides live updates from Porsche Motorsport with the latest information and photos from racetracks around the world.
Catherine Van Geel PR Manager, D'Ieteren - Porsche Belgium